Headwaters Search and Rescue K9
Emergency Contact Information 1-715-575-1545
Emergency Contact
Our emergency number is generally answered 24 hours a day by a team member. Please do not use the number above except for requesting search assistance or to immediately reach a team member. When you call the above number several phones ring at the same time and emergency procedures are initiated. Upon receiving a call from a law enforcement agency or an emergency management official, Headwaters Search and Rescue K9 dispatches qualified search management personnel and dog teams to a staging area near the search site.
Using standard incident command protocols and working in concert with search management officials, we deploy teams to look for the missing subject or subjects. Depending on the needs of the managing agency, HSAR operations can integrate completely into the command structure or work independently with our own operations and logistics, base operations and communications.
HSAR has experienced operations staff that utilize "best practice" modern search strategies based on missing person behavior to locate missing subjects.
For non-emergency information email us at: HSARInfo@yahoogroups.com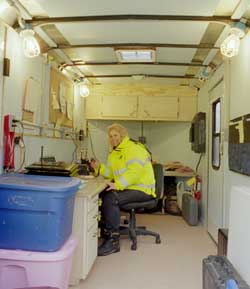 The HSAR base trailer is equipped with radio communications and GPS mapping technology to coordinate HSAR search operations.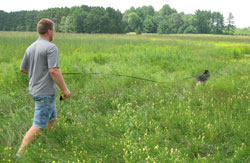 Aaron and Zirk working a track during a training session.