Headwaters Search and Rescue K9
Emergency Contact Information 1-715-575-1545
Team Capabilities
All HSAR members with field classifications are trained in radio communications, wilderness navigation using GPS, map and compass as well as search strategy and subject behavior. All K-9 handlers carry medical kits, supplies and equipment necessary to sustain long periods of search work in isolated wilderness areas.
Each field team uses a HSAR issued GPS that provides navigation and mapping information and tracks the route taken during the course of a search. This information can be uploaded to our base camp computer to provide accurate and timely information concerning coverage in the search area during the course of a search.
HSAR's night search capabilities can extend a search well beyond sunset. Cooling temperatures that accompany the onset of darkness are optimal for scent detection. Operational search teams have completed night search evaluations and train specifically for night searches.
HSAR can also support extended duration searches in wilderness settings.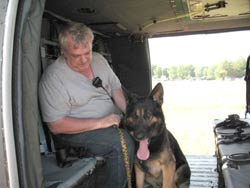 K9 Max during pre-flight training.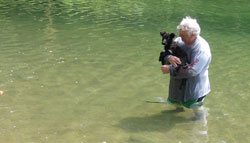 Tony and puppy cooling off after training.